Laboratory of Microbial Ecology and Evolution
Laboratory of Microbial Ecology and Evolution
Follow us on twitter @SmallThingsLab
https://twitter.com/SmallThingsLab
Group Leader
Lab Members
---
---
Ongoing Projects
Czech Science Foundation EXPRO
Pan-European Lake Sampling - Microbial Eco-genomics (PELAGICS)
Project No.: 20-12496X
Principal Investigator: Rohit Ghai , co-PI (Michaela Salcher)
Financial support: Czech Science Foundation
Duration: 2020 - 2024
Team Members: Paul Bulzu, Indranil Mukherjee, Alan Wong, Tiberiu Szöke-Nagy, Vojtěch Kasalický, Karel Šimek, Vinicius Kavagutti, Clafy Fernandes, Roudaina Boukheloua, Helena Vieira, Fran Kostanjšek, Tomáš Chrudimský, Petr Macek
Freshwater habitats are critical for all terrestrial life, yet the vast majority of their microbial inhabitants (pro- and eukaryotes) remain enigmatic, outside the bounds of cultivation. The recent development of novel cultivation methods, coupled with advances in sequencing now provides an opportunity to finally unravel freshwater microbial diversity. The PELAGICS project plans a coordinated pan-European sampling campaign (70 lakes) with 24 collaborating scientists from 16 European countries. With novel media mimicking natural conditions and semiautomated high-throughput isolation we aim for stable cultivation and whole-genome sequencing of 500 prokaryotes and 50 unicellular eukaryotes. Moreover, terabyte scale deepmetagenomic sequencing (ca. 18 TB) will allow recovery of thousands of metagenomeassembled genomes for pro-, eukaryotes and viruses. This large-scale effort will finally uncover the microbial diversity (pro- and eukaryotes), their natural interactions and ecological roles in aquatic food webs.
A Pan-European microbial ecology network is proposed to sample 70 lakes towards the goal of stable cultivation, whole-genome sequencing (500 pro- and 50 unicellular eukaryotes) and terabyte-scale deep-metagenomic sequencing to obtain 1000s of genomes of freshwater pro-, eukaryotes and viruses.
Finished Projects
Unveiling life strategies of uncultivated viruses in freshwater environments using metagenomics
Project No.: 4828S
Principal Investigator: Rohit Ghai
Financial support: Czech Science Foundation (GACR)
Duration: 2017 - 2019
Viruses are the most abundant biological entities on the planet, at least one order of magnitude more numerous than their host microbes in aquatic environments. Despite their abundance, studying viruses via cultured isolates remains challenging owing to the complexities in obtaining axenic cultures for the abundant microbial groups. The situation is even more acute for freshwaters where the availability of such pure cultures of the dominant phyla is still rather limited. We propose a long-term metagenomics based approach in two well-studied freshwater habitats to enable a first glimpse of the important double-stranded DNA bacteriophages in freshwaters. We will link these uncultured phages to their host both using existing sequence based approaches and also develop novel methods. In particular we will focus on life strategies of free-living viruses developed in the process of co-existence with the host microbes. Moreover, important insights into factors affecting seasonal dynamics of phage and host populations and global biogeography of freshwater phages are expected.
Evolutionary strategies of freshwater phages and their impact on carbon cycling
Project No.:
MSM200961801
Financial Support : Programme for research and mobility support of young researchers (CAS)
Principal Investigator: Adrian-Stefan Andrei
Duration: 2018 - 2020
Past Lab Members
Dr. Adrian-Stefan Andrei, SNSF Ambizione Fellow at University of Zurich (CH). Junior group leader of Microbial Evogenomics Lab (MiEL)
Dr. Maliheh Mehrshad, Department of Ecology and Genetics, Limnology, Uppsala University, Sweden
Guests
Stefan Neuenschwander (PhD Student), Limnological Station, University of Zurich, Zurich, Switzerland (2016)
Dr. Michaela Salcher (Visiting Scientist), Limnological Station, University of Zurich, Zurich, Switzerland (2016)
Pedro Cabello-Yeves (PhD Student), Evolutionary Genomics Group, Universidad Miguel Hernandez, Alicante, Spain (2017)
Charlotte Dafni Vavourakis (PhD Student), Dept. of Freshwater and Marine Ecology, University of Amsterdam, Netherlands (2018)
Paul-Adrian Bulzu (PhD Student), Dept. of Molecular Biology and Biotechnology, Babes-Bolyai University, Cluj-Napoca, Romania (2018,2019)
Dr. Rafael de la Haba (Visiting Scientist), Departamento Microbiologia Y Parasitologia, Facultad Farmacia, Sevilla, Spain (2018)
Ana-Duran Viseras (PhD Student), Departamento Microbiologia Y Parasitologia, Facultad Farmacia, Sevilla, Spain (2018,2019)
Izabela Mujakic (PhD Student), Laboratory of Anoxygenic Phototrophs, Centrum Algatech, Trebon, Czech Republic (2019)
Dr. Soo-je Park (Visiting Scientist), Microbial Ecology and Genomics Lab, Jeju University, South Korea (2019)
Dr. Felipe H. Coutinho (Post-doc), Evolutionary Genomics Group, Universidad Miguel Hernandez, Alicante, Spain (2019)
Shohjahon Begmatov (PhD Student), Russian State Agrarian University - Moscow Timiryazev Agricultural Academy
Invited Speakers
Prof. Francisco Rodriguez-Valera, Evolutionary Genomics Group, Universidad Miguel Hernandez, Alicante, Spain

Prof. Gerard Muyzer, Department of Aquatic Microbiology, Institute for Biodiversity and Ecosystems Dynamics, University of Amsterdam

Prof. Gerald Koudelka, Department of Biological Sciences, State University of New York at Buffalo, Buffalo, NY, USA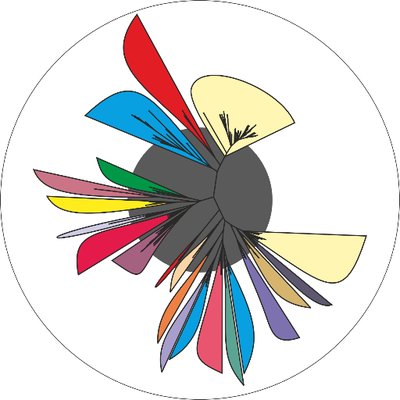 Publications
Cabello-Yeves P.J., Zemskaya T.I., Zakharenko A.S., Sakirko M.V., Ivanov V.G., Ghai R., Rodriguez-Valera F. (2020) Microbiome of the deep Lake Baikal, a unique oxic bathypelagic habitat Limnology and Oceanography 65 : 1471–1488.
DOI: doi.org/10.1002/lno.11401
Inoue K. , Tsunoda S.P., Singh M., Tomida S., Hososhima S., Konno M., Nakamura R., Watanabe H. , Bulzu P.A., Banciu H.L., Andrei A., Uchihashi T., Ghai R., Béjà O., Kandori H. (2020) Schizorhodopsins: A family of rhodopsins from Asgard archaea that function as light-driven inward H+ pumps Science Advances 6 : eaaz2441.
DOI: 10.1126/sciadv.aaz2441
Mukherjee I., Salcher M., Andrei A., Kavagutti V., Shabarova T., Grujčić V., Haber M., Layoun P., Hodoki Y., Nakano S., Šimek K., Ghai R. (2020) A freshwater radiation of diplonemids Environmental Microbiology 22 : 4658–4668.
DOI: doi.org/10.1101/2020.05.14.095992
Park S.J., Andrei A., Bulzu P., Kavagutti V., Ghai R., Mosier A.C. (2020) Expanded diversity and metabolic versatility of marine nitrite-oxidizing bacteria revealed by cultivation-and genomics-based approaches. Applied and Environmental Microbiology 86 : e01667-20.
DOI: doi.org/10.1128/AEM.01667-20
Salcher M., Andrei A., Bulzu P., Keresztes Z.G., Banciu H.L., Ghai R. (2020) Visualization of Lokiarchaeia and Heimdallarchaeia (Asgardarchaeota) by fluorescence in situ hybridization and catalyzed reporter deposition (CARD-FISH) mSphere 5 : e00686-20.
DOI: doi.org/10.1128/mSphere.00686-20
Kavagutti V., Andrei A., Mehrshad M., Salcher M., Ghai R. (2019) Phage-centric ecological interactions in aquatic ecosystems revealed through ultradeep metagenomics Microbiome 7 : 135.
DOI: 10.1186/s40168-019-0752-0
Flores-Uribe J., Hevroni G. , Ghai R., Pushkarev A. , Inoue K. , Kandori H. , Béjà O. (2019) Heliorhodopsins are absent in diderm (Gram-negative) bacteria: Some thoughts and possible implications for activity Environmental Microbiology Reports 11 : 419-424.
DOI:10.1111/1758-2229.12730
Vavourakis C.D. , Mehrshad M., Balkema C., van Hall R., Andrei A., Ghai R., Sorokin D., Muyzer G. (2019) Metagenomes and metatranscriptomes shed new light on the microbial-mediated sulfur cycle in a Siberian soda lake BMC Biology 17 : 69. DOI:10.1186/s12915-019-0688-7
Durán-Viseras A., Andrei A., Ghai R., Sánchez-Porro C., Ventosa A. (2019) New Halonotius Species Provide Genomics-Based Insights Into Cobalamin Synthesis in Haloarchaea Frontiers in Microbiology 10: 1928
DOI:10.3389/fmicb.2019.01928
Bulzu P.A., Andrei A., Salcher M., Mehrshad M., Inoue K. ,Kandori H. , Béjà O., Ghai R., Banciu H.L. (2019) Casting light on Asgardarchaeota metabolism in a sunlit microoxic niche Nature Microbiology 4: 1129–1137 .
DOI: 10.1038/s41564-019-0404-y
Andrei A., Salcher M., Mehrshad M., Rychtecký P., Znachor P., Ghai R. (2019) Niche-directed evolution modulates genome architecture in freshwater Planctomycetes ISME Journal 13: 1056–1071.
DOI: 10.1038/s41396-018-0332-5
Mehrshad M., Rodriguez-Valera F. , Amoozegar M. A., López-García P., Ghai R. (2018) The enigmatic SAR202 cluster up close: Shedding light on a globally distributed dark ocean lineage involved in sulfur cycling The ISME Journal 12 : 655-668 .
DOI: 10.1038/s41396-017-0009-5
Mehrshad M., Salcher M.M., Okazaki Y., Nakano S., Šimek K., Andrei A., Ghai R. (2018) Hidden in plain sight—highly abundant and diverse planktonic freshwater Chloroflexi Microbiome 6 : 176.
DOI: 10.1186/s40168-018-0563-8
Neuenschwander S., Ghai R., Pernthaler J., Salcher M. (2018) Microdiversification in genome-streamlined ubiquitous freshwater Actinobacteria ISME Journal 12 : 185-198 .
DOI: 10.1038/ismej.2017.156
Vavourakis C.D. , Andrei A., Mehrshad M., Ghai R., Sorokyn D. Y., Muyzer G. (2018) A metagenomics roadmap to the uncultured genome diversity in hypersaline soda lake sediments Microbiome 6 : 168.
DOI: 10.1186/s40168-018-0548-7
Al-Qahtani A.A., Al-Anazi M.R., Nazir N., Ghai R., Abdo A.A. , Sanai F.M. , Al-Hamoudi W.K. , Alswat K.A. , Al-Ashgar H.I. , Khan M.Q. , Albenmousa A., Cruz D.D. , Bohol M.F.F. , Al-Ahdal M.N. (2017) Hepatitis B virus (HBV) X gene mutations and their association with liver disease progression in HBV-infected patients Oncotarget 8 : 105115-105125.
DOI: 10.18632/oncotarget.22428
Cabello-Yeves P.J., Ghai R., Mehrshad M., Picazo A., Camacho A. , Rodriguez-Valera F. (2017) Reconstruction of diverse Verrucomicrobial genomes from metagenome datasets of freshwater reservoirs Frontiers in Microbiology 8 : 2131.
DOI: 10.3389/fmicb.2017.02131
Cabello-Yeves P.J., Haro-Moreno J.M., Martin-Cuadrado A.B., Ghai R., Picazo A., Camacho A. , Rodriguez-Valera F. (2017) Novel Synechococcus Genomes Reconstructed from Freshwater Reservoirs Frontiers in Microbiology 8 : 1151.
DOI: 10.3389/fmicb.2017.01151
Carda-Diegez M. , Ghai R., Rodriguez-Valera F. , Amaro C. (2017) Wild eel microbiome reveals that skin mucus of fish could be a natural niche for aquatic mucosal pathogen evolution. Microbiome 5 : 162.
DOI: 10.1186/s40168-017-0376-1
Ghai R., Mehrshad M., Megumi Mizuno C., Rodriguez-Valera F. (2017) Metagenomic recovery of phage genomes of uncultured freshwater actinobacteria. ISME Journal 11 : 304–308.
DOI: 10.1038/ismej.2016.110
Koh H. W., Hur M., Kang M. S., Ku Y. B., Ghai R., Park S. J. (2017) Physiological and genomic insights into the lifestyle of arsenite-oxidizing Herminiimonas arsenitoxidans Scientific Reports 7 : 15007 .
DOI: 10.1038/s41598-017-15164-4
Shevchenko V., Mager T., Kovalev K., Polovinkin V., Alekseev A., Juettner J., Chizhov I., Bamann C., Vavourakis C., Ghai R., Gushchin I., Borshchevskiy V., Rogachev A. , Melnikov I. , Popov A. , Balandin T. , Rodriguez-Valera F., Manstein D.J., Bueldt G., Bamberg E., Gordeliy V. (2017) Inward H+ pump xenorhodopsin: Mechanism and alternative optogenetic approach Science Advances 3 : e1603187 .
DOI: 10.1126/sciadv.1603187
Ghai R., Mehrshad M., Mizuno C., Rodriguez-Valera F. (2016) Metagenomic recovery of phage genomes of uncultured freshwater Actinobacteria The ISME Journal DOI: doi:10.1038/ismej.2016.110
Mizuno C., Ghai R., López-García P., Rodriguez-Valera F. (2016) Genomes of Abundant and Widespread Viruses from the Deep Ocean mBio 7 : e00805-16.
DOI: doi:10.1128/mBio.00805-16
Alexe M. , Şerban G., Baricz A. , Andrei A., Cristea A., Battes K.P., Cîmpean M. , Momeu L., Muntean V. , Porav S.A. , Banciu H.L. (2018) Limnology and plankton diversity of salt lakes from Transylvanian Basin (Romania): A review Journal of Limnology 77 : 17-34.
DOI: 10.4081/jlimnol.2017.1657
Cristea A., Baricz A, Leopold N., Floare C.G. , Borodi G. , Kacso I., Tripon S., Bulzu P.A., Andrei A., Cadar O., Levei E.A., Banciu H.L. (2018) Polyhydroxybutyrate production by an extremely halotolerant Halomonas elongata strain isolated from the hypersaline meromictic Fără Fund Lake (Transylvanian Basin, Romania) Journal of Applied Microbiology 125 : 1343-1357.
DOI: 10.1111/jam.14029
Mehrshad M., Salcher M.M., Okazaki Y., Nakano S., Šimek K., Andrei A., Ghai R. (2018) Hidden in plain sight—highly abundant and diverse planktonic freshwater Chloroflexi Microbiome 6 : 176.
DOI: 10.1186/s40168-018-0563-8
Andrei A., Baricz A. , Robeson M.S., Pǎuşan M.R., Tǎmaş T., Chiriac C., Szekeres E., Barbu-Tudoran L., Levei E.A., Coman C., Podar M., Banciu H.L. (2017) Hypersaline sapropels act as hotspots for microbial dark matter Scientific Reports 7 : 6150.
DOI: 10.1038/s41598-017-06232-w
Andrei A., Pausan M.R., Tamas T., Har N., Barbu-Tudoran L., Leopold N., Banciu H.L. (2017) Diversity and biomineralization potential of the epilithic bacterial communities inhabiting the oldest public stone monument of Cluj-Napoca (Transylvania, Romania) Frontiers in Microbiology 8 : 372.
DOI: 10.3389/fmicb.2017.00372